MULTIPLE WAYS TO LEARN ABOUT ENTERPRISE ENGAGEMENT AND BECOME CERTIFIED IN ISO 30414, ISO 10018 AND FOUR NEW ISO HR STANDARDS
Organizational leaders, practitioners, and solution providers can learn about a new strategic and systematic approach to engaging all stakeholders and benefit from five new practical ISO standards and certifications to improve organizational performance and create better experiences for all stakeholders:
ISO 30414 guidelines to enhance the benefits of internal external capital reporting
ISO 10018 to improve quality people management
ISO 10667 to enhance assessment services delivery
ISO 30401 to better manage knowledge in your organization
ISO 30409 for more efficient workforce planning.
Each standard offers a clear return-on-investment benefit to professionals and organizations based on more efficient and measurable processes for managing people and addressing their needs for the benefit of all. These standards apply the same principles that ISO 9001 quality management standards applied to transform manufacturing throughout the world: the application of a CEO-led proactive, strategic, and systematic approach rather than the typical ad hoc, reactive approach.
ICEE provides learning and support through:
Books, decks, and manuals for each standard written or overseen by the people who led the creation of the standards.
Four-session webinar courses held throughout the year.
Regional ISO training bootcamps, click here for schedule and registration.
Access to experts to get answers to questions.
How to Obtain Professional Certifications
Each standard and certification requires participation in either webinar courses or live, regional bootcamps, whether for Certified Practitioner level or ISO professional certifications.
Certified and ISO Practitioner designations are based on an 80% or better score on a multiple-choice test and 30-minute video webinar exams with a senior ICEE examiner for the desired standard.
In addition to the above requirements, ISO professional certifications are predicated on having at least three years of management or auditing experience; as well as an 80% or better score on a multiple choice exam on the standard and its application; a 60-minute or more video webinar exam, and a written exercise based on the standard, including a implementation and audit plan. Provisional ISO certification is provided until an individual has conducted his or her first audit under the supervision of an ICEE examiner.
Employer and solution provider audits are based on a complete documentation review and site visits.
For more details on the standards process, contact:
Bruce Bolger, 914-591-7600, ext. 230; Bolger@TheEEA.org.
Learning and Support for All
Wikipedia Overview. A concise overview of the field first published in 2009.

You can learn about the field through an abbreviated short book for CEOs and a full textbook with complete details.
Enterprise Engagement for CEOs
A 120-page introduction to Enterprise Engagement that includes all the general information necessary for a CEO and executive team or consultants to understand the basic principles of the field and to pass the Certified Engagement Practitioner one-half hour video webinar exam.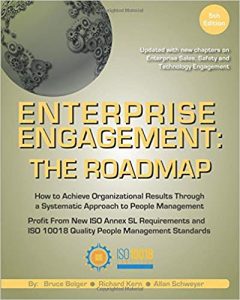 Cost: $15.99 for non-members; one copy free to members
Enterprise Engagement: The Roadmap 5th Edition
A 330-page textbook that provides everything a professional and organization needs to implement an ISO-10018 compliant Enterprise Engagement process. If you buy this book, you probably don't need Enterprise Engagement for CEOs unless you want a shorter version to share with executives or colleagues.
Cost: Free for corporate members; $36 on Amazon.com and other online book stores.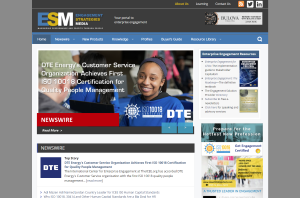 ESM (Engagement Strategies Media) at EnterpriseEngagement.org. Regularly updated news, profiles, research reports, on all aspects of engagement across the enterprise.
EEXAdvisors.com. A resource center and marketplace of end-users and engagement solutions providers seeking practical solutions in all areas of engagement, including strategic planning; branding and corporate responsibility strategies; culture design and implementation; recruitment and coaching; communications; job design; learning; diversity and collaboration, innovation, loyalty, rewards and recognition and analytics. Includes a library of information resources.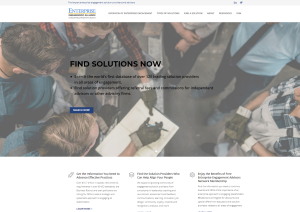 ISO Human Capital Regional Bootcamps: 1 1/2 -day intensive learning programs providing preparation for professional or organizational certification in ISO Human Capital Standards, including ISO 30414 Human Capital Reporting and ISO 10018 Quality People Management. Click here for information on the Chicago program, March 12 to 13. These programs are open to nonmembers and members.
Members-Only Learning and Resources

Monthly One-Hour, Four-Class Webinar Courses for CP and Quarterly for ISO 10018 Professional Training and Schedule for ICEE Members Only
Professional certification webinars are held monthly in four consecutive webinar classes timed for particular hemispheres. Standards education and certification currently includes:
ISO 30414 Guidelines for Internal and External Human Capital Reporting.
ISO 10018 Quality People Management
Coming Soon:
ISO 30401 Knowledge Management
ISO 10667 Assessment Services Delivery
ISO 30409 Workforce Planning
ISO Standards Topics include:
Introduction to Human Capital Management and the concept of Enterprise Engagement; i.e., addressing the interests of all stakeholders.
What are ISO standards and what do they have to do with people management.
The economic and related benefits of ISO standards.
A quick review of the ISO human resources standards. Annex SL and what these have to do with people.
What is a Corporate Responsibility Report and why most companies will soon publish them.
Introduction to ISO human capital standards and the economic and experiential benefits.
How to sell senior management and CEOs on the benefits of standards.The specific requirements and guidelines of each standard.
How to conduct an audit.
How to write a business plan for the standard's implementation.
How to implement an operating system to maintain standards implementation.