About ICEE
About the International Center for Enterprise Engagement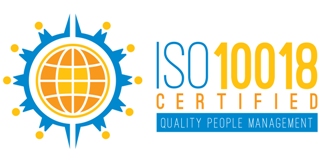 The International Center for Enterprise Engagement (ICEE) at the Healthcare Management Institute (HMI), a division of UTMB Healthcare Systems, Inc., offers the first certification for the ISO 10018 Standard for People Involvement and Competence; supports the creation of an academic field on engagement through curriculum and research; helps organizations in all areas of engagement create standards for their practices; and provides consulting services on engagement design and implementation in the healthcare industry.
The International Center for Enterprise Engagement is a joint venture between the Healthcare Management Institute (UTMB) and the Enterprise Engagement Alliance in Hawthorne, NY. HMI was founded by Dr. Ron McKinley, who was Vice President of Human Resources for UTMB, and by Mr. Lee S. Webster, Director of Employee Relations at UTMB, to bring best human resources practices to the healthcare industry and to administer the UTMB's role as Secretariat for ISO.
The HMI is a division of UTMB Healthcare Systems, Inc. UTMB Healthcare Systems Inc. is a non-profit corporation with UTMB as its sole member. UTMB is itself a member of the University of Texas System, one of the nation's largest university systems.
As part of HMI, ICEE is accredited to create ISO certifications by the American National Standards Institute.
Key Activities
Creation of the first Accreditation and Certification for solution providers and organizations seeking to comply with ISO 10018 Standards on People Involvement and Competence and/or benefit from best practices.
Assistance with the development of a formal academic course on engagement that can be utilized at colleges and universities throughout the world.
Support for academic research based on data generated from 10018 compliance and other engagement initiatives.
Consulting services on engagement for the healthcare profession through HMI.
About HMI
The primary mission of the Healthcare Management Institute is to sponsor development of national and international standards in human resources management and healthcare organization management. The new institute is run by Dr. Ron McKinley and Mr. Lee Webster.
In addition to its role with the ICEE, HMI's activities will include: establishing certification methodology in technical areas related to human resource management and healthcare management practices; promoting research in the applications of standards in these areas; and providing a venue for people who are interested in approving organizational performance. According to Lee Webster, "The HMI will assume the UTMB role as secretariat of ISO Technical Committee (TC) 260 – Human Resource Management, Secretariat for ISO TC 304 – Healthcare Organization Management, and administrator for the U.S. Technical Advisory Groups supporting these two ISO Technical Committees." HMI is certified by the American National Standards Institute to create certifications for standards.
Says Ron McKinley: "While ISO is working on a new standard for engagement, the current ISO 10018 standard, as well as the work of the Enterprise Engagement Alliance, provides a clear and practical framework for the design and implementation of measurable engagement efforts. There is no need to wait for the creation of the new standard for organizations to get started now, before investors, customers and talented employees demand it."
About the EEA
The Enterprise Engagement Alliance at TheEEA.org is an outreach and education organization founded by Bruce Bolger, President, who was the originator of the process for the creation of the first standards on employee engagement for the International Organization for Standardization (ISO.) His company, The Engagement Agency, will manage ICEE under an agreement with HMI. The Engagement Agency LLC publishes Engagement Strategies Media (ESM) at EnterpriseEngagement.org, created the not-for-profit Enterprise Engagement Academy at EEA.tmlu.org and provides support services for solution providers seeking to profit from the engagement field.