Get a Head Start on ISO Human Capital Certifications Critical to Making the Right Decisions and Engaging Key Stakeholders…
Announcing ISO Human Capital Standards Online Training to Prepare for Professional ISO Certifications Designed to Help Organizations Get the Most Out of Their Key Assets−Customers, Employees, Communities, and All Other Stakeholders.
• Monthly intro webinars to ISO 30414 and ISO 10018 certification required of all candidates;  introductory class free to all professionals. 
• See below for: free webinar dates and to register; the benefits, the process and fees for ISO certification, and a link to join ICEE for professional certification. 
Organizations are making big decisions related to employees, customers, and other stakeholders with little of the metrics they use to make decisions in manufacturing, logistics, engineering, finance, and research, often leading to unforeseen consequences. This program is for leaders who truly believe that people are an organization's most important asset.
ISO 30414 Human Capital Reporting standards are designed to provide organizations the information they need to make better decisions and to more effectively engage all their key stakeholders in their brands and vision.  ISO 10018 Quality People Management standards provide a clear road map for sustainable success by applying the same strategic and systematic approach to people that ISO 9001 standards used to transform quality management. Now is the time to make the most of our most valuable assets–customers, employees, distribution partners, vendors, communities, and investors.
These free introductory sessions and ISO 30414 and ISO 10018 professional certifications prepare management with the tools they need to help organizations make the right decisions and achieve their goals more efficiently and sustainably with better experiences for all.
Click here for a list of current certified organizations and professionals.
Presenters: Faculty includes co-founders of the ISO working group that created the ISO human capital standards, who are co-founders of the International Center for Enterprise Engagement:
• Bruce Bolger, Co-Founder, ICEE
Cost:
• Webinars are free to business professionals interested in ISO 30414 Human Capital Reporting and ISO 10018 Quality People Management standards and certification.
• $250 annual membership to ICEE for those seeking certification and $550 for those seeking organizational certification.
• About $150 to purchase the ISO 30414 human capital reporting or ISO 10018 quality people management standard from ISO. Candidates much read and thoroughly understand the standard.
The Path to Professional Certification: This program is designed for business professionals seeking certification in ISO 30414 or ISO 10018 certification, which includes the following steps:
• Attend the first ISO certification webinar, scheduled below. This is mandatory for anyone seeking certification. (Free).
• Join ICEE as an individual ($250) or organizational ($550) member to receive the full course, which includes recorded webinars and books for preparation. ISO professional certification is $2,500 in the US and developed nations; $1,250 for developing nations or for academics and scholarships.
• When ready to proceed with full ISO certification, candidates will be sent a multiple choice test on the standard to be completed within 24 hours.
• Upon successful completion (80%), candidates will receive instructions for a written examination that will demonstrate the ability to apply the standard to the circumstances of an organization.
• The final step involves a video web meeting that is recorded with a senior ICEE ISO examiner.
• Based on successful completion, provisional certification is granted until the candidate completes an actual ISO standards development process for an organization or completes an audit.
Register Now to Join ICEE to Earn ISO Certifications
The Benefits
• Learn how you and your organization can benefit from helping identify the human capital metrics and management practices to address the growing human capital mandate and the need for a CEO-led strategic and systematic to addressing the needs of all stakeholders when making critical decisions.
• Discover the economic and experiential benefits of ISO 30414 Human Capital Reporting and ISO 10018 Quality People Management standards, as well as four other ISO standards designed to improve efficiencies and outcomes ideally suited to the current climate.
• Be prepared for the growing need to produce meaningful Corporate Responsibility Reports on your organization's human capital management practices to compete for or retain customers, talent, investors, and community support.
These introductory webinars not only provide preparation for professional certifications and auditing to qualified professionals, but also provide concrete information on how organizations can profit from these standards in both financial and non-financial outcomes, including enhanced professional and organizational experiences.
Why Now
• CEOs will be making major decisions in the coming months critical to how they engage their key stakeholders with little of the quality data they have access to in other areas of their business. CEOs are under growing pressure from investors, investment companies, government regulators, customers, employees, and communities, organizations to make decisions that address the interests of their stakeholders, including employees, customers, distribution partners, vendors, and communities and to disclose those investments and outcomes.
• ISO standards provide the first and most widely accepted road maps for voluntary, strategic and systematic processes that improve outcomes and experiences.
• With the new focus on human capital as an asset, and all eyes on company management to see how they handle the tough decisions of the days, funds organizations budget to engage people are increasingly becoming considered an investment with a desired ROI, creating a new demand for voluntary, sensible and auditable practices.
• By connecting the dots between the organization's brand, culture, and objectives, with the multiple tactics used to engage all stakeholders, leaders can not only improve performance through efficiencies but create better experiences for all stakeholders.
Topics Include:
• An introduction to the human capital standards, their benefits, and return on investment, and how to use human capital metrics to make better decisions.
• An overview of the impact of coming US Securities & Exchange Commission human capital disclosure rules and the requirements already in place in Europe; pressures from investors and investment companies, and the new Business Roundtable and Davos Manifesto of the World Economic Council, Embankment Project of leading companies, and many other organizations, call for organizations to address the needs of all stakeholders in the critical decisions they make.
• An overview of what is required for Certified or ISO professional certification in ISO 30414 or ISO 10018 standards for both auditors and developers, including details on requirements and guidelines; how to create a process and/or audit implementation plan, and how to help organizations use human capital metrics to make better decisions.
Return on Investment:
• A practical voluntary framework you can bring to your organization and clients that helps drive better decision-making and improves results and experiences for all stakeholders by strategically and systematically aligning their interests with those of your organization or that of a client in a sustainable way.
• Preparation for ISO certifications that can provide a new profit center for solution providers and a professional opportunity to management ready to help their companies and clients make better decisions and profit from the growing human capital mandate.
• The ability to certify organizations in their human capital practices to achieve better outcomes and greater efficiencies and to reduce litigation risks through the safe harbor offered by ISO certifications.
Please feel free to e-mail Bruce Bolger at Bolger@TheICEE.org or call him at 914-591-7600, ext. 230.
Register Now to Join ICEE to Earn ISO Professional Certification
Useful Preparation Tools
Here are a variety of optional books and free information sources on the concepts of ISO human capital standards and Enterprise Engagement, the engagement of all stakeholders available to help prepare for ISO human capital certifications or the broader practices of stakeholder engagement.
Books
You can learn about the field through an abbreviated short book for CEOs and a full textbook with complete details.
Enterprise Engagement for CEOs
A 120-page introduction to Enterprise Engagement that includes all the general information necessary for a CEO and executive team or consultants to understand the basic principles of the field and to pass the Certified Engagement Practitioner one-half hour video webinar exam.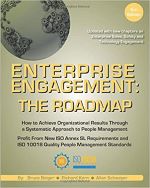 Cost: $15.99 for non-members; one copy free to members
Enterprise Engagement: The Roadmap 5th Edition
A 330-page textbook that provides everything a professional and organization needs to implement an ISO-10018 compliant Enterprise Engagement process. If you buy this book, you probably don't need Enterprise Engagement for CEOs unless you want a shorter version to share with executives or colleagues.
Cost: Free for corporate members; $36 on Amazon.com and other online book stores.
Regularly updated news, profiles, research reports, on all aspects of engagement across the enterprise.
A marketplace of end-users and engagement solutions providers seeking practical solutions in all areas of engagement, including strategic planning; branding and corporate responsibility strategies; culture design and implementation; recruitment and coaching; communications; job design; learning; diversity and collaboration, innovation, loyalty, rewards and recognition and analytics.

The Resources section includes an extensive library of information on all aspects of ISO standards and human capital management.